Since 1988, Tony Brischler has been entertaining audiences at corporate and private events across Atlanta,
the Southeast and the US. In 2012 he was the first in Atlanta to offer digital caricatures to his clients,
adding a whole new dimension to this very popular entertainment service.
Caricatures are great fun for people of all ages and they never fail to draw a crowd. Ideal events include:
• Trade Shows & Conventions • Corporate Parties, Picnics, Socials
• Wedding Receptions • Bar/Bat Mitzvahs • Birthday Parties • College/School Events
• Reunions• Anniversary Celebrations • Grand Openings/Promotions • and many more!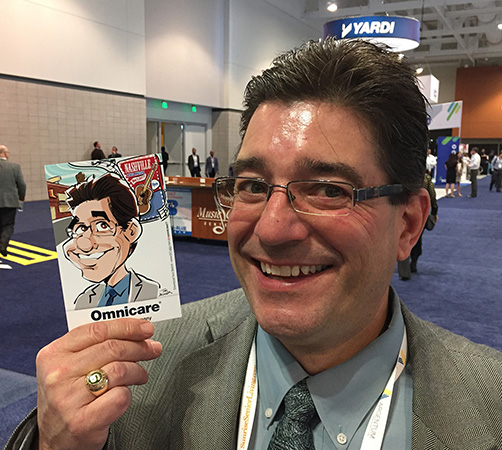 WELCOME TO CARICATURES BY TONY
ATLANTA'S PREMIERE DIGITAL CARICATURIST!
Tony is in great demand not just because of his talent and speed but his ability to put his 'models' at ease
with his easy going personality and sense of humor. Whether it's full color digital or traditional black and white, you can be assured that your guests will be treated respectfully and professionally.
I work for a software company in Knoxville. As it came time to plan our annual user conference, we knew we wanted to do something special to make our opening night reception both fun and memorable. We considered live music and other forms of entertainment but then one of our team members had the idea of hiring a caricature artist. We considered several different artists in our area, but the idea of digital artwork stood out to us since we
are in the technology industry.
Working with Tony was a pleasure; he was responsive, professional, and experienced with working events. He helped us strategize a schedule based on our expected attendance, and worked with our marketing department to develop a customized background for his artwork that would remind people
of our event. On the day of, he showed up on time and came prepared. He worked seamlessly with our staff as we set up for the event. As our attendees began arriving, Tony showed great hospitality and soon became the hit of
our cocktailing event.
Tony worked for hours on end and was able to take care of all of our guests. It was the highlight of the night, as people ooh'd and ahh'd at his work while waiting for their turn. His workmanship at the beginning was just as detailed and entertaining as it was at the end. Our attendees wore their caricatures on the provided lanyards for the next two days of our conference. Tony's artwork provided a great conversation starter, and our clients begged us to bring him back for future events.
We are so glad we decided to bring Tony to our event. We've already begun plans for next year's event, and you can expect to find him there!
Jonathan Trentham | EventBooking
Tony joined us at our booth at the 2017 NAA Education Conference and Exposition. We had originally planned on him for just the
first day, but seeing how big
our turnout was, we were
happy he joined us for day two.
Tony's work was nothing less than superior and our clients had such a great experience, as did we.
The digital experience was perfect; printed out and placed
in a lanyard so everyone could wear their caricatures. Being able to download a digital copy
later made it perfect.
Thank you, Tony, for making our 2017 show a complete success!
Andrea Lyle | Executive Coatings
& Construction, LLC
Tony Brischler is the quintessential professional. He provided samples of his work when we were scouting for a caricature artist for an upcoming client event; he was on time, provided outstanding service
and he was the creative "magnet" that attracted scores of trade show guests to our client's booth during the 3-day event. His use
of digital technology to create
and subsequently upload each caricature to a website for
guests to download and print
was a real plus.
Suffice to say, we couldn't be happier and would recommend Tony highly.
Judi Victor | The Producers, Inc
Tony and his digital caricatures were such a value-add at our trade show booth! He generated so much traffic that there were times he had more people in line to sit with him than to speak with us! People absolutely loved him, and continued to ask about him the days we did not use his services.
Tony was so friendly, professional, talented and easy
to work with... we would not hesitate to use his services again.
Jennifer Jurs | Mindmarker
Read more client comments on Tony's FAQ page